La variante FA (Fighter Attack), evolución de la variante Advanced Jet Trainer del M-346, es la respuesta más adecuada para satisfacer una gama cada vez más amplia de necesidades operativas del cliente. El avión es un caza ligero de múltiples funciones equipado con el radar Grifo-M346 multimodo, y Identification Friend or Foe (IFF) específicamente optimizado para el M-346FA.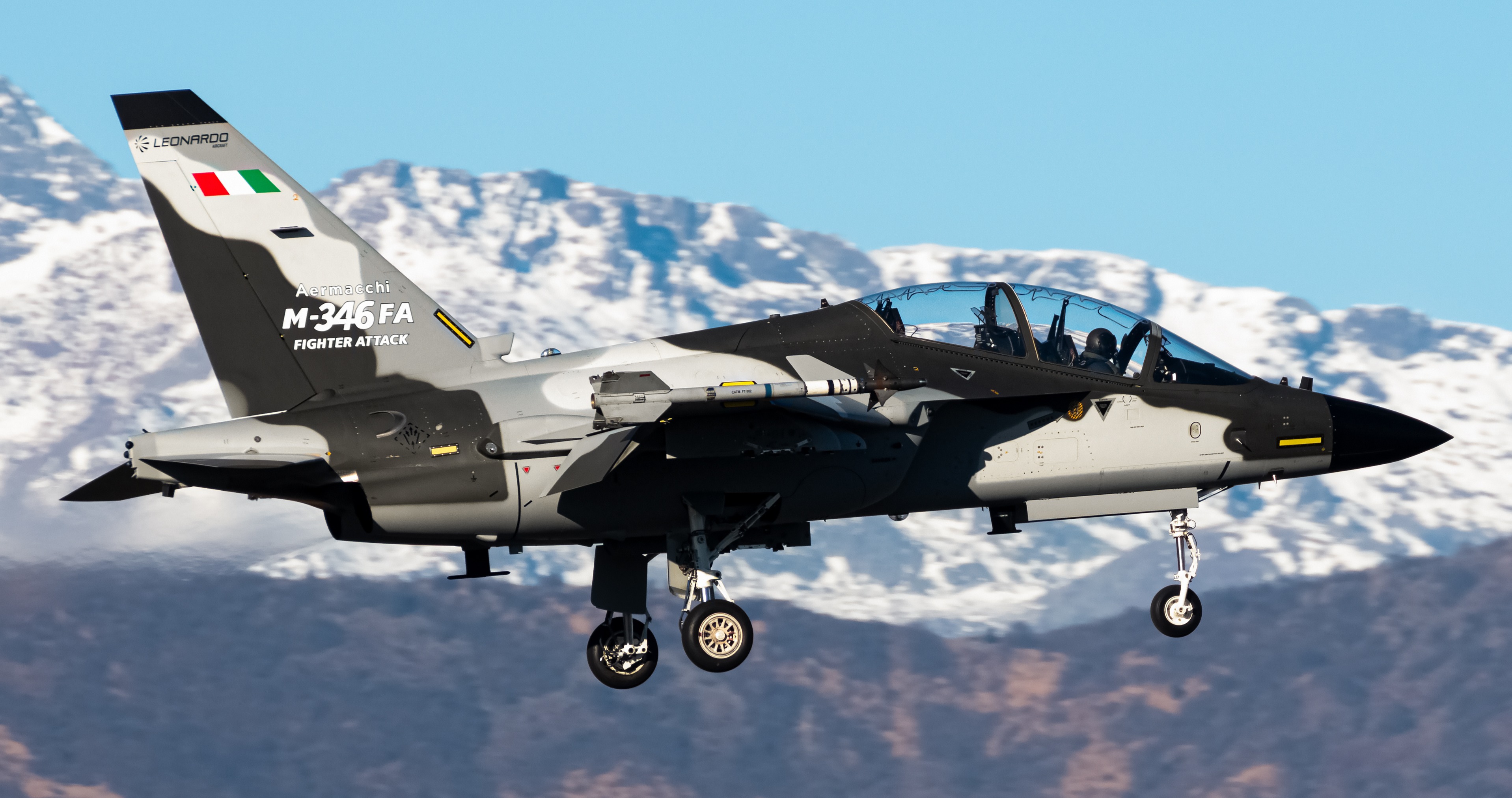 The M-346 Fighter Attack new livery© Alessandro Maggia
Misiones y características
Solución táctica altamente rentable
La variante FA mantiene todas las características del M-346AJT (Advanced Jet Trainer), proporcionando a la fuerza aérea la máxima similitud, flexibilidad operativa y capacidades de entrenamiento avanzadas.
7 puntos duros externos
Disponible para una amplia variedad de armas aire-aire y aire-tierra (IR, Radar, láser / GPS guiado y no guiado) y varias cargas externas, incluyendo vainas por cañones, reconocimiento, designación de objetivos o de guerra electrónica.
Comunicaciones y autoprotección
El avión tiene una suite de comunicaciones centrada en la red de alta gama con un sistema de comunicaciones seguras y Tactical Data Link; un sistema de autoprotección extremadamente completo (DASS – Defensive Aids Sub-System). También está disponible un sistema integrado Helmet Mounted Display (HMD).
Seven external hard-points
The M-346FA can integrate different types of armaments and external loads, including air-to-air and air-to-surface munitions (such as IR, radar and/or laser/GPS- guided munitions), gun pods, and target reconnaissance and designation pods, integrated with Helmet Mounted Displays (HMD).
ETTS
La suite Embedded tactical Training System (ETTS) del AJT permite que el M-346FA se siga utilizando como Advanced Jet Trainer, Lead-In Fighter Trainer (LIFT), que ofrece todo el espectro de funciones de entrenamiento simulado en vuelo e integrado con el M-346 Integrated Training System (ITS) totalmente validado con capacidades Live, Virtual, Constructive (LVC).
Reabastecimiento de combustible aire-aire
El M-346FA tiene la capacidad de largo alcance/resistencia y más tiempo "on station".
Agresor y Compañero Roles de entrenamiento
También se puede llevar a cabo de manera efectiva, asegurando la máxima eficiencia, efectividad, similitud, flexibilidad operativa y capacidades de entrenamiento de combate para la fuerza aérea.
Datos técnicos
NIVEL MÁXIMO DE VELOCIDAD, BAJA ALTITUD
2 turbofans Honeywell F124-GA-200
2 x 2.850 kg - 2 x 6.280 lb