The M-346FA (Fighter Attack) is a 'light combat' version of the M-346 advanced trainer with multi-role capabilities including close air support missions, even in urban areas, battlespace air interdiction for national defence and tactical reconnaissance.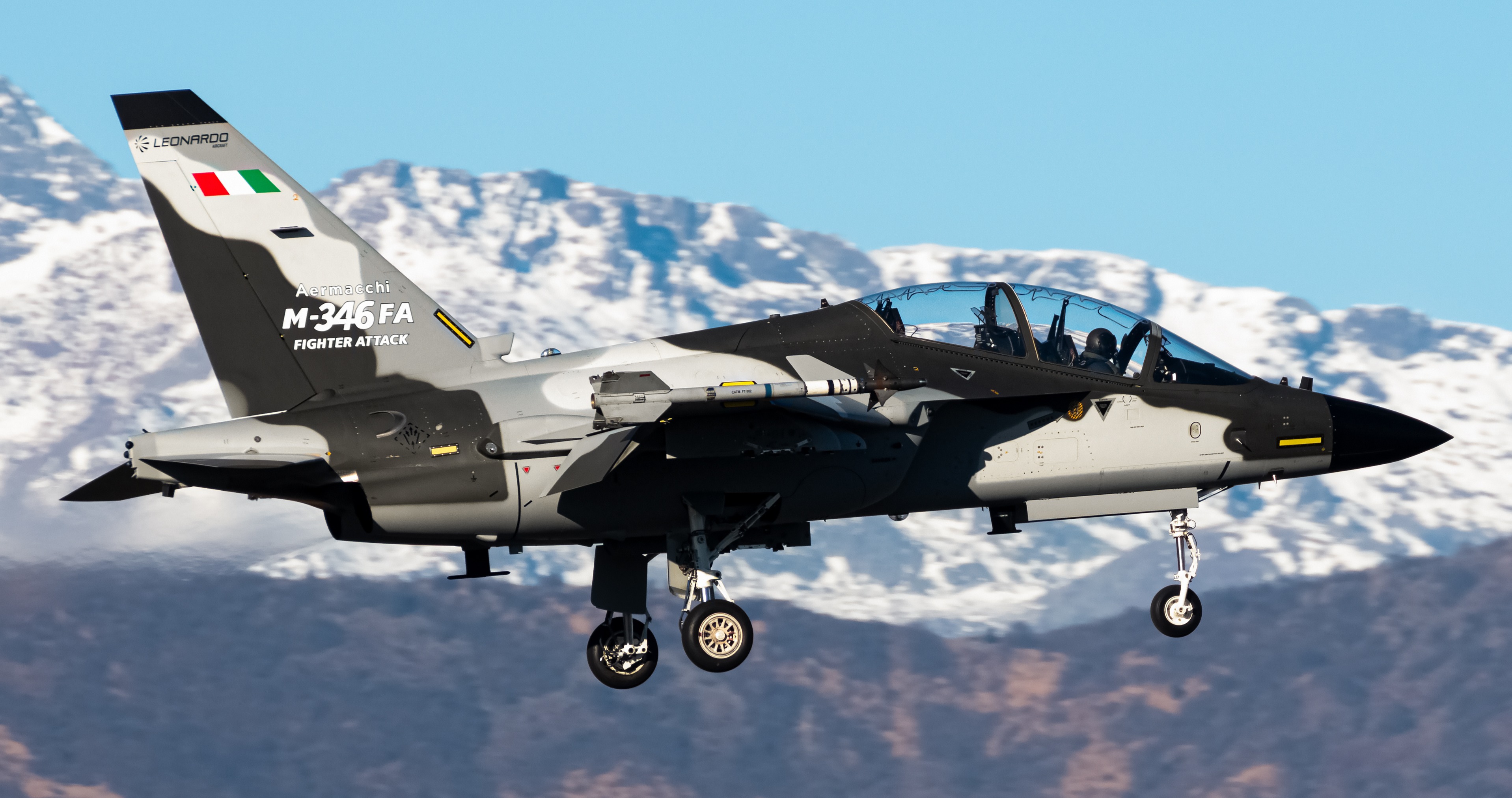 The M-346 Fighter Attack new livery© Alessandro Maggia
Mission & features
Multi-role solution
The M-346FA maintains all the features of a trainer aircraft with the addition of new generation equipment and sensors, making it an effective operational solution in the light combat role.
Sensors, systems and equipment
The aircraft is equipped with multi-mode Grifo-M-346 mechanical scanning radar, developed by Leonardo and optimised for the M-346FA: a dependable, high-performing solution offering superior accuracy and enabling exceptional system modularity. The M-346FA is protected by a complete passive defence system (DASS – Defensive Aids Sub-System), while the integrated communication system and tactical datalink (TDL), which may also be integrated in a version compliant with NATO requirements, ensure the highest levels of interoperability.
Seven external hard-points
The M-346FA can integrate different types of armaments and external loads, including air-to-air and air-to-surface munitions (such as IR, radar and/or laser/GPS- guided munitions), gun pods, and target reconnaissance and designation pods, integrated with Helmet Mounted Displays (HMD).
Embedded Tactical Training System (ETTS)
The integrated onboard tactical training simulation system – Embedded Tactical Training System (ETTS) – can also be used in advanced and pre-operational training, offering a complete spectrum of simulated in-flight training operations in conjunction with the Integrated Training System (ITS) of the M-346, which has Live, Virtual, and Constructive (LVC) functions.
In-flight refuelling
The M-346FA's ability to refuel in flight enables it to perform long-range missions requiring greater autonomy and a high degree of endurance.
Aggressor and Companion Trainer roles
The M-346FA allows operators to conduct multiple roles using a single platform. For example, the aircraft can effectively carry out Aggressor and Companion Trainer missions, offering users a highly flexible platform for today's rapidly changing world.
Technical data
MAX LEVEL SPEED, LOW ALTITUDE
2 Honeywell F124-GA-200 turbofans
2 x 2,850 kg - 2 x 6,280 lb